BIOGRAPHIES: SURNAMES BEGINNING WITH "T"
(To enlarge a Biography, highlight, cut & paste to a document form. highlight & select font setting)

TABOR, Jesse L. residing on sections 16 and 18, Trim Belle township, was born in Oak Grove township April 12, 1872, son of Thomas K. and Mary (Keown) Tabor. His father was born in Tennessee and settled in Madison, Ill., when he was ten years old, and lived there until after his marriage, in 1857, then settled in Pierce county, Wis., where they resided for about ten years, engaged in general farming. In 1867 the family moved to Oak Grove township, where his father rented a farm for some years, and later came to Trim Belle township and bought the farm where our subject now resides and where he died July 16, 1902. He was a member of the Methodist Episcopal Church and a Democrat in politics. He was school trustee for many years. The mother of Jesse L. was born in Madison county, Illinois, daughter of Thomas P. and Frances (Ford) Keown. Mr. Keown was born in South Carolina and moved to Kentucky with is parents when a small boy. Her father was past eighty-two years and her mother was over eighty years when they died. Our subject is one of ten children, six of whom are living, as follows: Isabella married Sterratt Myron and they have four children--Chancey, Harry, Earle and Charlie. William H. is a farmer and they have had seven children--Arthur, Ada, Blanche, Earle, Ralph (deceased), Francis and Helen B. Alice is the wife of James McLaughlin, a farmer in Cass county, North Dakota. They have three children, to wit: Jesse, Esther and Annie. Ida married Charles Canfield, of Cloquet, Minn., and they have one child Edith C. Charles married Bertha Kinne and three children were born to them Edgar, Marie and Harry. Jesse L. is the sixth child. They that have passed away are: Hester, E. Milton, Frances and Lewis. Jesse L. Tabor has always resided on the home farm and has always been a farmer. He married July 1, 1896, Elsie Kellor, who was born and reared in Trim Belle township, Pierce county, Wisconsin, daughter of Theodore and Rose Kellor. Her father died about 1906 at the age of sixty-eight. Her mother still resides in Trim Belle Township. Mr. and Mrs. Tabor ar the parents of four children: Thomas K., born September 2, 1898; Theodore J., born August 22, 1900; Vio J., born March 21, 1903, and Bernice E., born December 21, 1905. (Taken from "History of the St. Croix Valley", published in 1909)

TAIT,Thomas W. was born in St. Lawrence county, New York, August 18, 1851, a son of Thomas and Judith (Freeman) Tait. He was educated in the district schools and when sixteen years of age came west and settled in Wisconsin, in 1868. His father and his mother died when our subject was quite young. Thomas then went to live with his maternal grandparents, John and Mary (Hesselgrave) Freeman. They were natives of England and came to the United States at an early day settling in St. Lawrence county, New York. The grandfather was a boatman on the St. Lawrence River for many years, then he engaged in farming. He removed to Wisconsin a few years after our subject and settled in the township of Kinnickinnic, and made his home with his daughter, Mrs. Sarah A. Deans, wife of J. T. Deans, of River Falls, who then resided on a farm. He and his wife died there at quite an advanced age. Mr. Tait came to River Falls in 1868 and worked for the farmers in the neighborhood for several years. When he was twenty-one years of age he married and moved to Warren, St. Croix county, and there he purchased a farm of eighty acres to which he added from time to time until he owned 240 acres in the township of Warren. This was mainly wild land, and Mr. Tait brought it all under cultivation and made his home on the farm until he moved to River Falls, about 1895, where he has since resided, engaging in the agricultural implement business for a number of years with George W. Chinnock, under the firm name of Chinnock & Tait. In June 1903, they sold out the business, since that time Mr. Tait has not engaged in any active work. He still owns his farm, and is living a retired life, having accumulated quite a large estate. He is a Republican in politics and was chairman of the board of Warren Township. Since coming to River Falls he has held the office of supervisor of the Third ward, and is holding that office at the present time, 1908. He is a member of the I. O. O. F. and the Foresters. Mr. Tait was married to Mary Lamson, March 20, 1872. She was born in Ohio, daughter of Levi J. and Milicent Lamson. She died at the age of fifty-five years, at River Falls. She was a mother of nine children, eight of whom are living, they were all born in St. Croix county and educated at the district schools of the county and at River Falls, Wis. William was born in 1873 and resides on his farm in St. Croix County. He married Nettie Colbeth. Albert was born in 1874, is a music teacher and resides at St. Cloud, Minn. He married Myrtle Bradley. Claude was born in 1876. He married Mary McDermott, and have had three children: Everett, Harold and Claude. They reside at New Richmond, Wis. Milicent is single, and is a bookkeeper, residing in St. Paul, Minn. Judith was born in 1881, and resides at home. She was graduated from River Falls High school. Ada was born in 1883, and is a teacher in the public schools of River Falls. She is a graduate of both the High school and the Normal. Jennie, born in 1885, is a graduate of the High school. Clara was born in 1887. Lucile was born in 1890, and died at River Falls, July 3, 1905. Mr. Tait married March 27, 1907, for his second wife, Mrs. Ida Timberlake, widow of Frank Timberlake, of Kinnickinnic township, by whom she had two children: Linnie was born in 1884, and is now the wife of Alex J. Campbell, of Kinnickinnic township. They have two children: Isabella nd Francis. Florence was born in 1890 and is attending the Normal school at River Falls, Wis. Mrs. Tait was born at Tipton, Ind., October 31, 1861, and came to Wisconsin in 1871 with her parents. She received her education at the Normal school. Her father was Moses W. Wilson and her mother, before her marriage, was Hepsy Vandercook. Mr. Wilson was a farmer and followed it all his life during his residence in St. Croix County. He was register of deeds of St. Croix county, Wisconsin and died before his term of office expired, at the age of fifty-six years. Mrs. Tait's mother is still living, and resides with her son Joseph W. at River Falls. Mr. Tait, in all relation of life, aims to be true to the best interests of manhood, and his worth is widely recognized. He is pleasant in manner, kind hearted and charitable, ever ready with a kind word when a kind word will do good. He is public-spirited and an invaluable citizen. Mrs. Tait, with her charming womanly qualities, presides over her pleasant home on the corner of Cedar and Dallas streets, River Falls, Wis. Reference: Taken from "History of the St. Croix Valley", published in 1909

TAPLIN, W.S., farmer, P. O. Elmwood, Pierce county, was born in Canada East, a son of Lorenzo D. and Philena (Cross) Taplin. The following children were born to his parents, namely: John H., Hulda, Wealthy, Chester D., Sarah, Emily, Rosina, Julia, Lorenzo D., William S., Euseba, Orlando and George L. William S. came to Dunn county, Wis., with his parents when young. He worked on a farm a few years, then went to lumbering, and has been lumbering winters and farming summers ever since. He owns a good farm of heavy hard-wood timber, which he is clearing, and will soon have a good home of his own. He now makes his home with is brother, Lorenzo D., as he never married. In politics he is a stanch republican. Lorenzo D. came to Wisconsin at the time that his parents did. He married Lizzie W., daughter of G. B. and L. E. Vliet, and five children have been born to them: Lloyd P., Winnie H., William S., Leona and Lynne D. Mr. Taplin is a democrat in politics, and has been clerk of the school board for nine years. Both brothers attend the Methodist Episcopal church, and are highly respected in the community. --Taken from the "Historical and Biographical Album of the Chippewa Valley Wisconsin.

THELANDER, N.A. was born in Sweden, November 24, 1840, came to the United States in the spring of 1869 and settled at River Falls, Wis., where he has since resided. He was a contractor and builder and followed that business for many years. He built up almost the entire east side of Main street, which was destroyed by fire. He also erected the Tremont building and the opera house, which he still owns and manages. It has a front stage of sixty-four feet and is three stories high. Mr. Thelander has been successful in all he has undertaken. He married Anna Hakanson, a native of Sweden, who came to America about 1874, five years after the subject of this sketch, and their five children were all born and educated at River Falls, Wis. Emma is the wife of C. B. Jacobs and resides in Chicago, Ill. Otto is a bookkeeper and resides in his native town. Ellen is a teacher in the public schools of Minneapolis, Minn. She was graduated from the State Normal and has taught school ten years. Oscar resides in Portland, Ore. Alma is a graduate of the State Normal and teacher in the public schools of Tacoma, Wash. Reference: Taken from "History of the St. Croix Valley", published in 1909

THOMPSON, George the popular district attorney, residing at Ellsworth, Pierce county, Wis., is a native of this state, born in Greene county, October 19, 1875. After attending the common schools of his native county he was graduated from the Stoughton Academy, and afterwards entered the State University at Madison. At the university he first completed a course in the college of letters and science, and was graduated there with special honors in 1899. He then entered the University Law School from which he was graduated in 1901. Thus doubly equipped with a classical and legal education he came directly to Ellsworth and started the practice of his profession. His talents attracted immediate attention, and in the fall of 1902 he was elected district attorney, an office which he still continues to hold. In politics Mr. Thompson is a Republican. At the bar, he is eloquent and convincing, and as a counsellor his advice is always sound and good. Being still a young man he has yet many honors ahead of him. Mr. Thompson was married on December 27, 1905, to Hilda Grinde, daughter of the late attorney Lars Grinde, of the fimr of Grinde & Olin, of Madison, Wis. Mrs. Thompson is a graduate of Madison high school, class of 1900, and of the State University, class of 1905. Mr. and Mrs. Thompson have established at Ellsworth one of the most beautiful homes in Pierce county. Mr. Thompson has a large and lucrative practice. He has at his offices one of the largest law libraries in the Northwest, and he has also an exceptionally large literary library at his home. Mr. Thompson comes of Norwegian ancestry. His parents, Knut and Bergit Thompson, were natives of Norway and immigrated to the United States in the early days, locating at Green county, Wisconsin, where the former carried on general farming until his death, in 1899. The mother is still living in Green county. (taken from "History of the St. Croix Valley", published in 1909).

THORSON, Stener, who lives on section 3, Martell Township, Pierce County, Wisconsin, was born in Norway July 16, 1834, and about 1852 came America. His father was a farmer in the fatherland and his son Stener assisted him in his work and attended the common schools. His father died in Norway and his mother came to the United States some years after our subject, and died in Minnesota at the home of her daughter. Mr. Thorson lived two years in Dodge county, Wisconsin, and came to Pierce county in 1855; here he bought 120 acres of timber land, which he afterwards sold and then in 1858 purchased his present farm, where he has resided and farmed for fifty years. On this 260 acres he has erected a good substantial farm dwelling, large barns and other buildings. For a time during his early residence in Pierce County he worked in the woods in Minnesota and also in the mills at Stillwater. A Republican in his politics, he served one year as side supervisor, for seventeen years as assessor of the township, and as chairman of the town board for ten years. He is one of the present jury commissioners of Pierce county and has held that position for the past ten years. He is a member of the Synod Lutheran church and was a trustee of the church for many years. Mr. Thorson was united in marriage September 14, 1861, with Miss Trine Haugen, who was born in Norway and came with her parents to America in 1854. Mr. Haugen was a prominent man and settled in Martell Township and engaged in farming until his death. His wife is also deceased. Mrs. Thorsen died December 1884, at the age of forty-four years. She was a mother of eight children, five of whom survive as follows: Theodore was educated at the state university at Madison and at the state normal and resides at Dewey, Douglas county, Wis., where he is practicing law. He married Ganthild Quale and they have four children, Stener, Vera, Sidney and Evelyn. Edward resides at Clifford, Texas. He was educated in the Minnesota University and the state normal and at the Theological school of Robbinsdale, and is a Lutheran minister. He married Clara Nelson and they are the parents of two children, to wit: Elma and Agnes. Marie is the widow of John Gudmunson, late farmer of Wentworth, Wis., and they had one child, Orin. Amanda married Ole A. Johnson of Martell township, a farmer, and by this union three children were born, as follows: Edwin, Constance and Albert. Nora was educated at the state normal and resides under the family tree. Mr. Thorson married for his second wife, in 1892, Miss Helen Bakke, a native of Norway. She came to the United States with her parents when two years old. Anders Bakke, the father of Mrs. Thorson, settled in Martell Township and farmed there until his death. Mrs. Thorson is the mother of two sons, Helmer and Carl. They are assisting their father with the farm work. Mrs. Clara Nelson died in June 1908. (taken from "History of the St. Croix Valley", published in 1909)

TRUITTMAN, John Joseph was born in 1830, Switzerland. He was a farmer in Trenton Township, Pierce County. He was married in 1865 to Miss Barbara DENZER who was born 1849 in Germany and came with her family to Pierce County in 1865. John Truittman and Barbara Denzer were married in 1866 and had the following children: Anna C., born 1867, John, born 1871, Rosa, born 1873 and Joseph, born 1875. Anna Truittman died in the infamous Hinckley, MN fire in 1890, while visiting relatives there. Crippled at birth, Anna was unable to make it to the river, where many of the townspeople went in order to escape the fire. Her brother John traveled to Hinckley and returned with the gold pin Anna was wearing on her dress the day of the fire. It was the only means of identifying her body. The pin remains in the family today. John Truittman died 5 May 1893 and Barbara died 29 October 1924. Both are buried in the Trenton Cemetery. Submitted by descendant Kathryn C.Bryan (kc.bryan@worldnet.att.net.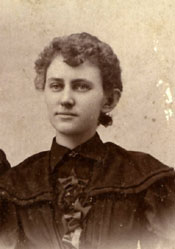 TUBBS Lucy Amelia (Potts), (Obituary) died on August 3, 1954, in San Francisco, CA. She was born on May 6, 1872, in Maiden Rock, WI. She was the daughter of James Mark and Emma (Spencer) Potts. Following the death of her mother at the age of 28 in 1878 in Maiden Rock, Lucy Amelia resided in that city with her grandparents, the late James and Sophia Potts. She was subsequently raised by her aunt, Amelia (Potts) Carson of Maiden Rock, and was married by the Reverend Reynolds in the Carson residence. Her late father was a Civil War veteran, enlisting in the 12th Illinois Cavalry and serving from 1861 to 1864. Before her marriage to Willard Elmer Tubbs, Sr. on 12 June 1894, she attended Normal school and was a school teacher in Redfield, SD. Her husband was a prominent River Falls businessman, president of the Tubbs Medicine Company. Their first child, W. Emerson died when an infant. Her husband died in 1931 and is interred in Greenwood Cemetery in River Falls. She is survived by their other 7 children; Edith, Mina, Adah, Vidle, Willard Elmer Jr., Lois and Emma Lou, and numerous grandchildren. Burial was at Greenwood Cemetery in River Falls in the family plot. This surrogate obituary was developed and submitted by Vern Dander at vdander@denver.net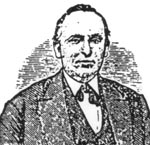 TUBBS, Thomas Emerson, (Obit synopsis) 28 Jan 1894. Date of birth: 8 April 1836, Essex, Chittenden County, VT. When 18 years of age he migrated west, driving through River Falls with a team for Mr. Hosea Bates to Pierce county, WI. He took a claim in Glass Valley a short time after and opened up a wagon and sleigh factory which he moved to River Falls in 1866 and continued successfully together with the insurance business until wiped out in a fire in 1876. He continued the insurance business until 1880, during which time the medicines he had compounded for the use of himself and neighbors constantly increased in demand forcing him to enter the manufacture of proprietary medicines as a business, and through his energetic perserverance it now profitably covers a large area of WI, MN, and the DKs. Funeral services were held on Tuesday afternoon. A large concourse of friends and neighbors were present. The services at the house were conducted by the Revs. S. S. Grinnell and James Evans. Submitted by Vern Dander at vdander@denver.net.

TUBBS, Vidle (Vi) (Obit)., Born in River Falls, WI. September 2, 1904, Died peacefully at Salmon Brook Care & Rehabilitation Center on May 3, 1996, Glastonbury, Hartford County, CT. Had lived in Glastonbury CT since 1943. In 1944 opened Glastonbury's first nursery school at the Welles Village Community Hall. In the same year also started the first Cub Scout Pack in Glastonbury. In 1946 she and husband purchased the former Richard G. Williams estate at 388 Hubbard St. and established the Glastonbury Country Day School and the Hubbard Hill Day Camp. Aim was to "lead children toward an awareness and understanding of the world around them, coordinating and developing each child's own interests through trips, dramatic play and creative art." Both the school and camp were closed in 1979 when she retired. For some families three generations of children and parents had experienced her passion for teaching. Was active in the Glastonbury PTA during and after its fledgling years and an active supporter of the Glastonbury Grange. Graduated from the River Falls State Teachers College in Wisconsin and studied at Teachers' College, Columbia University, NY, and Bureau of Educational Experiments, New York City. Prior to moving to Glastonbury she taught eight years in public schools and 13 years in private schools. A director and specialist at the Manhasset Bay School at Port Washington, L. I.,NY, and taught science and nature study at the Rosemary and Greenwich, CT, Country Day School. Survived by three sons, and three daughters-in-law, (edit : names removed); five granchildren; and four great grandchildren. Service May 201996, 6 p.m. at the First Congregational Church, Main St.,Glastonbury. In lieu of flowers, memorial donations may be made to the Vi O'Dell Teacher's Scholarship Fund, Glastonbury High School, 330 Hubbard St., Glastonbury, 06033. Submitted by Vern Dander at vdander@denver.net.


TUBBS, Willard Elmer, Sr.,(Obituary) of 202 South 2nd Street, died on March 22, 1931 in River Falls, WI. He was born in River Falls on March 18, 1869. He was the son of the late Thomas Emerson and Rebecca (Manning) Tubbs. On June 12, 1894, he married Lucy Amelia Potts of Maiden Rock, daughter of James M and Emma (Spencer) Potts. Their first child, W. Emerson died when an infant. Mr. Tubbs is survived by his wife, sister Cora Waldron, and 7 children; Edith, Mina, Adah, Vidle, Willard Elmer Jr., Lois and Emma Lou, and numerous grandchildren. He was a prominent businessman in River Falls, president of the Tubbs Medicine Company, a manufacturer of proprietary medicines founded by his father in the early 1870's. He took over the business in 1892, after a two year appenticeship which preceded his father's death in 1894. The business, described in 1900 as one of principal industries of the city, was incorporated in 1902. The company produced remedies for just about every ailment of man or beast. The business was ultimately sold to the R. W. Freeman Company. Burial was at Greenwood Cemetery in River Falls. This surrogate obituary was developed and contributed by Vern Dander at vdander@denver.net

TYLER, Charles R. was born in Syracuse, N. Y., October 6, 1820, son of James and Hannah (Burgess) Tyler, and a distant relative of President John Tyler. In the family were four children-Cornelia, the third, now deceased, married Dr. William Greenfield, of Edenborough, Pa.; Catherine, the fourth, also deceased, married Newton Boutwell, of Chicago; Charles R. was the second child, and James, the first, now dead, was a steamboat man on the lower Mississippi. Charles R. was educated in Ann Arbor, Mich., where he was taken when quite young by his parents. At the age of twelve years he started out in life as a trombone player and toured the entire western hemisphere as a boy musical prodigy. Upon returning from his last tour he retired from the entertainment line and settled in Bay City, Pierce county, Wis. Upon his arrival here he started a sawmill with the Phillips Brothers, but sold his interest in this business after several years and secured the abandoned site of the town of Saratoga by paying the county $1,700 for back taxes. He also took up government land, the patent signed in the characteristic hand of Abraham Lincoln being still in the family, a part of the land now being owned by Clarence Tyler. In 1859 Mr. Tyler went to Pike's Peak on a prospecting tour, but in 1861 returned to Bay city, where he remained for the rest of his life. In 1855 he was appointed postmaster, being Bay City's second postmaster, succeeding Noble Martin. This position he held until 1885. During his lifetime he held practically all the town offices. He was a Christian, but was not a member of any earthly church. He died December 22, 1896, and his wife passed away December 24, 1882, both being buried in Bay City Cemetery. Mr. Tyler was married July 5, 1844, to Juliet Phillips, born December 25, 1828, and had ten children, six of whom are living. Clarence R. resides in Bay City; Mary is Mrs. Eugene Sherburn, of Spokane, Wash.; Willard Greenfield lives in Red Wing, Minn.; Leaffie is Mrs. J. F. Moran, of Valley City, N. D., and Jessie, her twin sister, is Mrs. F. A. Young, of Bruce, Neb.: Claro Phillip lives in Bay City. (taken from "History of the St. Croix Valley", published in 1909)

TYLER, Clarence R. owner and operator of a sawmill in Bay City, Wis., was born in Bay City, July 5, 1859, son of Charles R. Tyler, an early settler. He was educated in the Bay City schools and engaged in the wood business on the river, running towboats for himself for many years. After his marriage he went to the pineries and remained until the fall of 1884, when he engaged in the mill of the Phillips Brothers, in Barron County, the mill having been moved from Bay City. Later he engaged in the sawmill business for himself. He has been a public-spirited man all his life. The ground upon which the Methodist church of Bay City now stands was donated by Mr. Tyler's father. Mr. Tyler affiliates with the Yeoman of America, being a member of Bay City Homestead, No. 975, of which Mrs. M. G. Tyler is chief correspondent. Our subject is watchman. He has been school clerk six years and has served as constable several terms. Mr. Tyler was married March 17, 1881, in Prescott, Wis., to Martha Miller, daughter of Griffin H. Miller, and Johanna Silkman Miller, early settlers of Prescott. Mr. and Mrs. Tyler are the parents of ten children, six of whom are living. Juliet D. is married to Everett J. Harding, of Bay City, Wis., formerly a soldier in the Thirteenth Minnesota, Company G, serving in the Philippines, now a rural mail carrier; Johanna D., twin sister of Juliet, is deceased; Rollin lives in Bay City, and his twin sister, Genevieve, died in infancy; Fay is Mrs. Francis Stolt, of Prescott, who served in Company A, Third Infantry, Spanish American War; Clinton, Ruby and Vera live at home. The family religion is that of the Unitarian church. Reference: Taken from "History of the St. Croix Valley", published in 1909



NEXT ("T" - page two)



HOME